Valentine's Day ~ Wednesday, February 14th, 2018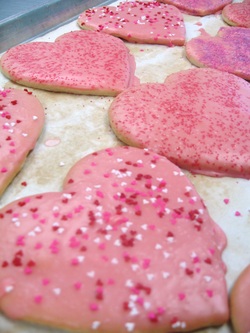 Bakers love, love, love Valentine's Day! It's so much fun because everything is so pretty, so decadent, and so lovely!
We will, of course, have lots of items for sale in the bakery, but we love when folks place custom orders for the people they want to express their love to! We can personalize any item! You will find our regular sized and jumbo sized heart cut-outs, love cut-outs, heart shaped mini-cakes, decadent cupcakes, heart shaped cookie & brownie cakes (in mini and 10" sizes!!), peanut butter kiss cookies, mini cheesecakes, desserts made for two, and as always, our Chocolate Bread!
Custom orders will be accepted until Friday, February 9th. You can email or call us with your order. PH: 262-968-1803 (GD) or 262-719-3020 (D)
---
Cupcake Cakes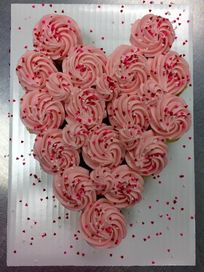 We've designed an extra fun gift to give this year! A cupcake cake! Great for a group, office, classroom, or your family! Just pull off a cupcake and enjoy -- no plates, knives or forks needed! This great treat is only $20 and available in Chocolate, Vanilla, Red Velvet or a combo! You can then choose from Vintage pink or blue, lilac, white or red buttercream. I'm not gonna lie...I'm totally sweet on this!!

---