---
What we do...every single day.....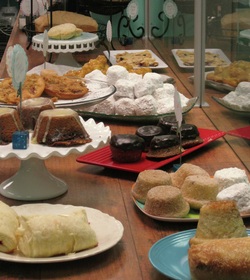 Every day, we fill up our counter with all things breakfast-y (pretty sure that's a word??) - each item made from scratch, with real recipes, by our hands! We make an all cream Scone, Sticky Buns, Muffins, Kringles that can challenge any in Racine, Bear Claws, a coffee cake of the day, our signature BAKED DONUTS, and on and on. Each day means new flavors and new kinds of items, so you'll be sure to find something interesting to indulge in.
As with all bakeries, we only make a certain amount of each thing, based on our best guess-timate for the day. Having said that, we encourage our customers to call us to save (or order) their items. We use Facebook often throughout the day to check for customers' "Save 'em Sally" orders -- whereby if you are our "fan" on
Faceboo
k and would like us to save anything for you, just let us know and we will! We can accommodate ANY size pastry order, with notice, and can even make some things in as quick as a half hour's notice. You can grab our bread menu for the month on our MENU PAGE.
---
---
Handmade, from scratch and rolled by hand...BREADS!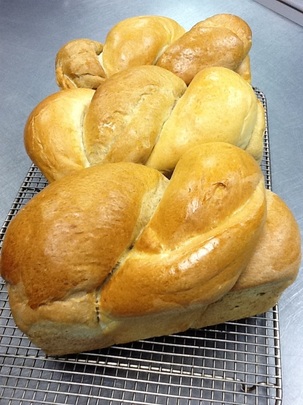 Twisted Rye
By 9:00 am (usually) we have our Breads of the Day done. We make English Muffin Bread and Soft White (loaves & rolls) EVERY day and then one or two (sometimes three!) other kinds as well...you know, like Dill Cottage Cheese, Honey Wheat, French, Cardamom, Cranberry Walnut, Salted Rye.
You can call us anytime to ask what our bread(s) of the Day are, download our bread menu on the menu page, or find out on Facebook.
---
---
Sweet Treats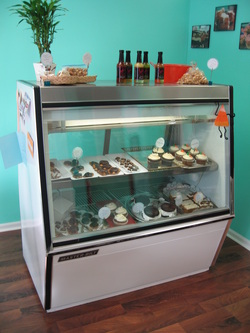 By lunchtime, we get as many dessert offerings as we can in our two dessert cases. We make at least a half dozen different kinds of cookies, a few different kinds of bars, several kinds of cupcakes, handmade Turtles & Cake Balls, Crostadas, Tortes, Cheesecake, Whoppee Pies, and on and on.

We also TRY to always have some gluten-free offerings, such as our Granola and Marshmallow Treats, as well as some dairy-free offerings.

Desserts are ever changing and we can make just about any ol' thing by special request.

AND...we made all this stuff too...................

---
---
---