---
Special Occasion Cakes

Please scroll down to see some of the many, many cakes we made for our customers!

Special Occasion Cakes & Cookies
All of our cakes are made from scratch, for your order. Therefore, we require a 4-day notice to prepare your cake. Our cakes are big, solid, flavorful, heavy,
full size
and do not require a second mortgage. It's a cake people.
We also make decorated cookies (or brownies or Gluten Free Krispie Treats) and love, love, love to do them! They are just plain fun and we invite you to create your very own flavor! We've listed some of the most common sizes and prices below (for cakes & cookies), but please give us a call if you don't see what you are looking for!
Standard Cake Flavors: Chocolate, Vanilla, Marble, Raspberry, Cinnamon, Lemon, & Eggnog, Confetti, Chocolate Mint.
Additional Flavors (add 48 hours notice & 10-20% charge): Pumpkin, Banana, Carrot, Coconut, Chocolate Chip, Lemon Raspberry, Caramel, Strawberry, Raspberry, Red Velvet, Cinnamon Chip, Spice, and our signature TIE DYE! Or possibly, a flavor you invented!
Frostings: All cakes are frosted with our Vanilla Buttercream - made simply with butter, powdered sugar, vanilla, and heavy cream! Chocolate Buttercream, Cream Cheese Buttercream or Whipped Topping (dairy free) as well as fillings can be added by request for an additional charge.
Prices are for standard decorations. Additional charges apply to special characters or novelty drawings.
This cake (below) is considered as one with "standard decorations".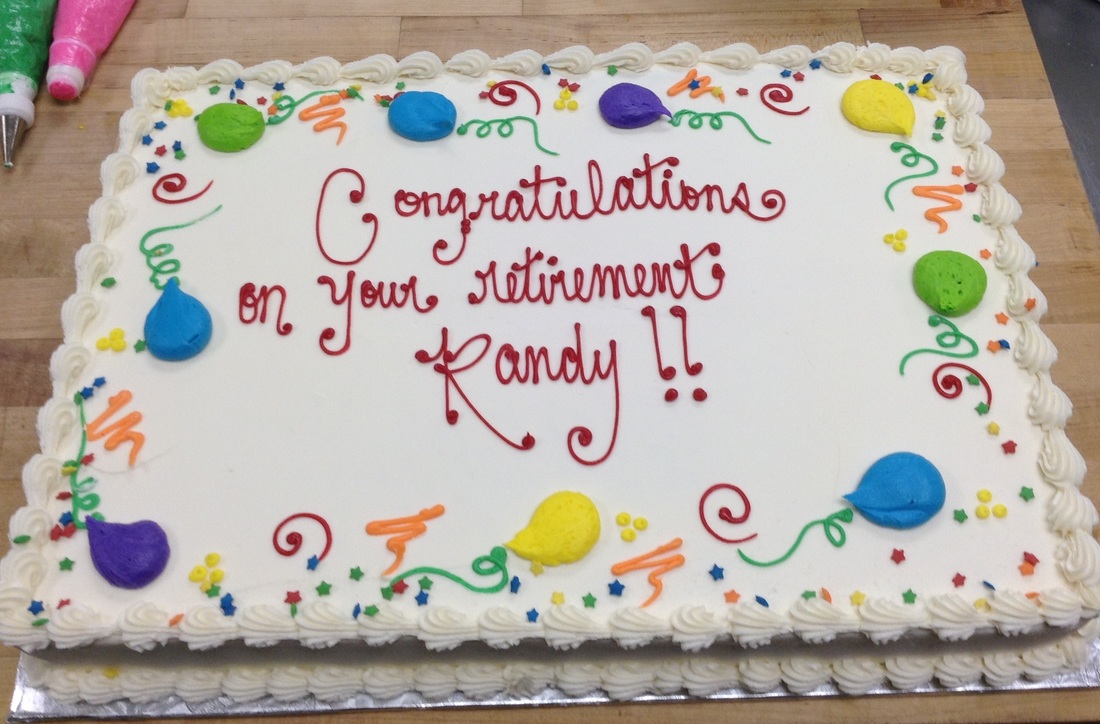 ---
---
Cake / Cookie Sizes & Prices
To follow are some very common size and price requests. Now, we make full-sized cakes. Our cakes barely fit on their boards or in their boxes, but we're not gonna change that because our Mommas said that's how cakes are supposed to be. We do cookies & cakes from 6" all the way up to 16" and even can do hearts, square, etc. You can download our
CELEBRATION CAKES MENU
here or these are the most commonly requested cake sizes...
8" Cookie $ 16.00 Cake $ 30.00
9" Cookie $ 20.00 Cake $
35.00
10" Cookie $ 23.00 Cake $
45.00
1/4 Sheet (like your 9x13 pan) Cookie $ 22.00 Cake $ 30.00
1/2 Sheet Cookie $ 40.00 Cake $
50.00
*note: At this time, Sally's does not offer Full Sheet Cakes...look, if it didn't fit in yo' Momma's oven, it won't fit in ours!
​
TO PLACE YOUR CAKE ORDER, YOU MAY CALL EITHER LOCATION OR EMAIL. ALL OF THE QUESTIONS ON THIS
FORM LINKED HERE
WILL NEED TO BE ANSWERED.
WE DO NOT ACCEPT ORDERS OVER FACEBOOK. Some designs will need management approval.
How many servings...

This is where it really gets confusing! There are two schools of thought - wedding cake slices and party slices, and even that varies as much as the colors of the rainbow. Here are our guidelines (below). You decide how much cake you want to order based on this.
6" cake

Party Pieces 6-8

Wedding Pieces 10

8" cake

Party Pieces 8-14

Wedding Pieces 24

9" cake
Party Pieces 10-18
Wedding Pieces 35

10" cake
Party Pieces 12-24
Wedding Pieces 40


12" cake
Party Pieces 24-30
Wedding Pieces 56

16" cake
Party Pieces 60
Wedding Pieces 100

1/4 sheet cake
single layer
Party Pieces 24

1/2 sheet cake
single layer
Party Pieces 48


Right here, we have given you two different CUTTING GUIDES. They are similar, but as you can see, they vary so much. These should help you understand how the cake will be cut to yield the amount of slices in each example. Feel free to print them off to use.

---
---
---
CUPCAKES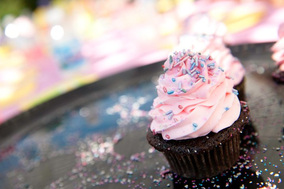 So many flavors...so yummy to eat! And who doesn't like a little pretty?! Click here for our complete
Cu
p
cake
Menu
!!
Please note: There is a minimum of SIX (6) for custom cupcake orders per flavor, TWELVE (12) if mini size.
May we just suggest this...what would you rather give...a store bought card, or a big ol' cupcake with a candle in it to say how you feel? Now THAT'S how to make a birthday Happy!
---
---
The Super Jumbo Cupcake!

How big do you want YOUR cupcake?! Yup, we even have the super, jumbo size! It feeds about 8 people, but you don't have to share!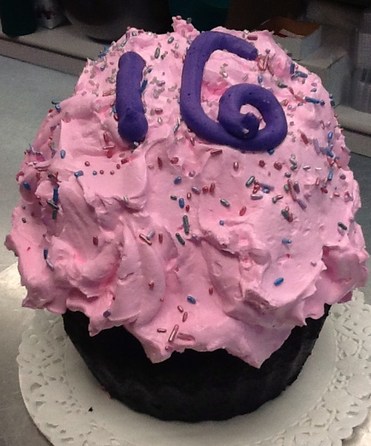 ---
---
COOKIES

We have a fantastic all butter cut-out cookie with a "secret" recipe for all-butter glaze! We have tons of shapes, so feel free to ask for your favorite. If we don't have it, maybe we can get it in time for your special event! Cookie prices range from $ .50 - $2.75 (some specialty cookies are up to $4.00 each).